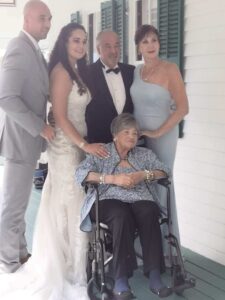 The Aldersbridge Communities wish granting program, ElderVentures, made a dream come true for a special bride and her grandmother.  Through this wish granting program, the bride's grandmother was able to take a limo to her granddaughter's wedding in Princeton, MA.  ElderVentures is funded on the generosity of the public and funds the wishes of any resident living at an Aldersbridge Community.
I will be forever grateful to ElderVentures for giving our family the opportunity to celebrate my wedding with my 102-year-old Nana present. I remember bursting into happy tears when Nana arrived. We hugged one another, with the warmth of our tears of joy flowing. A few minutes later, I glanced over and saw my brother showing Nana pictures of her newly born great grandson. It was so special having her there to share in those special moments together and it would not have been possible without the generosity of ElderVentures.
          Arianna
I too share in our daughter's sincere appreciation to all of those who made it possible for my mother, Anna to be at her wedding. Your loving care of her separates Linn Health & Rehabilitation from other facilities. As was evident in how so many of you assisted in getting her physically and mentally prepared for the day's journey to Princeton, Massachusetts.  A long journey for anyone from Rhode Island, but even more so for a woman of 102 years young.
Her presence brought all of us moments of emotional joy. Moments that will be forever held in our hearts.
Thank you, Linn Health & Rehabilitation, and ElderVentures for making this day an incredibly special one, for Anna and her entire family.
          With warmest thoughts!
          Anthony (Tony) Dolphin