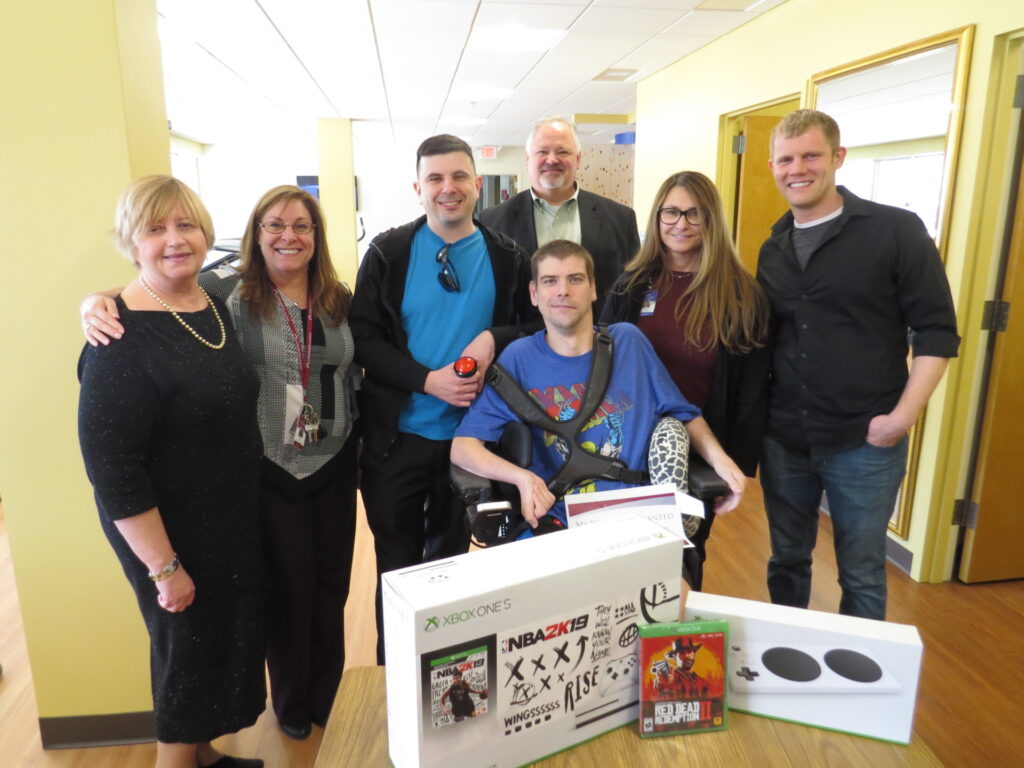 EAST PROVIDENCE, R.I. (April 9, 2019): Like most avid video gamers, Stephen Messier has been playing since he was a kid growing up in Warwick. Wheelchair bound since the age of 5, he developed a tight group of friends from school who also enjoyed video game play and never saw his dystonia disease as a disability.

As the neurological muscle disease progressed, he self-adapted to balancing the controller between his face and raised fist, using his chin to move the joystick. "I played so much that I literally got a hole in my chin," Stephen recalls, using his signature good humor to explain the callous he developed. "My friend's little brother would see me and ask why I was always sniffing the controller!"

Today, 40 year-old Messier still enjoys action and adventure video games, but for the past nine years, has only been able to watch his friends play. After neck surgery in 2011, his hand dexterity became compromised with muscle contraction and his fingers have been curled over ever since, making it impossible to hold or maneuver a game controller. Until now.
Messier, a resident at Linn Health & Rehabilitation in East Providence, learned about a wish-granting program called "ElderVentures" open to residents of any Aldersbridge Communities location. He made his wish known: to get a video game controller that could be adapted for his use.

Messier's 'band of brothers' from Warwick includes Nathan and Jason Quattrini, fellow grads from Warwick Vets who are avid gamers and have been friends with him for decades. "We saw Microsoft's Super Bowl commercial about the Xbox adaptive controller designed for gamers with disabilities and immediately thought of Stephen," notes Nathan. "But it was very expensive and seemed out of reach."

That's when Nathan and his brother put their engineering and problem-solving skills to the task, researching how they could do their own wiring and technical adaptation to get Stephen back to playing again without having to press buttons on a controller. "But we realized that we needed to purchase an Xbox system in order make our plans a reality."

Thanks to the generosity of ElderVentures donors, Messier was presented with a brand new Xbox One system with an adaptive controller by Aldersbridge Communities CEO Richard E. Gamache. "The ElderVentures program, which is funded entirely by financial donations, enables us to make someone's dream possible," he stated. "It's powerful and so rewarding on many levels and, as in Stephen's case, it's extremely meaningful and therapeutic."

Messier was very appreciative of the gift, and his friend Nathan was there for the informal ceremony. "This means I can get a little of my independence back and have fun again with my friends," said Messier.

Therapy provided by Linn Health & Rehabilitation in-house staff will be customized for his video playing needs. "We've been working to develop his upper body strength and functional activity tolerance, and we'll now work on his fine motor skills and dexterity," comments Bryan Paterson, occupational therapist at Linn Health & Rehabilitation. "Of course, Stephen is highly motivated to do his therapy and his friends have been so supportive."

Jason will work on the technical wiring, and acquiring the buttons and joystick to go along with the adaptive controller. Nathan will map the placement of the buttons on Stephen's electric wheelchair. They plan to build his wheelchair out with a box to sit conveniently on Stephen's lap and make a vertical frame for using his head movements to control some aspects of the game play. "We've researched online how others do this and know that it will be a bit of trial and error to get this accomplished," Stephen adds. "When we're done my chair will look like something out of Mad Max!"

"I can't wait to kill him in a game," added Nathan.

For more information on Aldersbridge Communities' ElderVentures program, contact Director of Development Elise Strom at (401) 438-4456  ext. 136 or email estrom@aldersbridge.org.