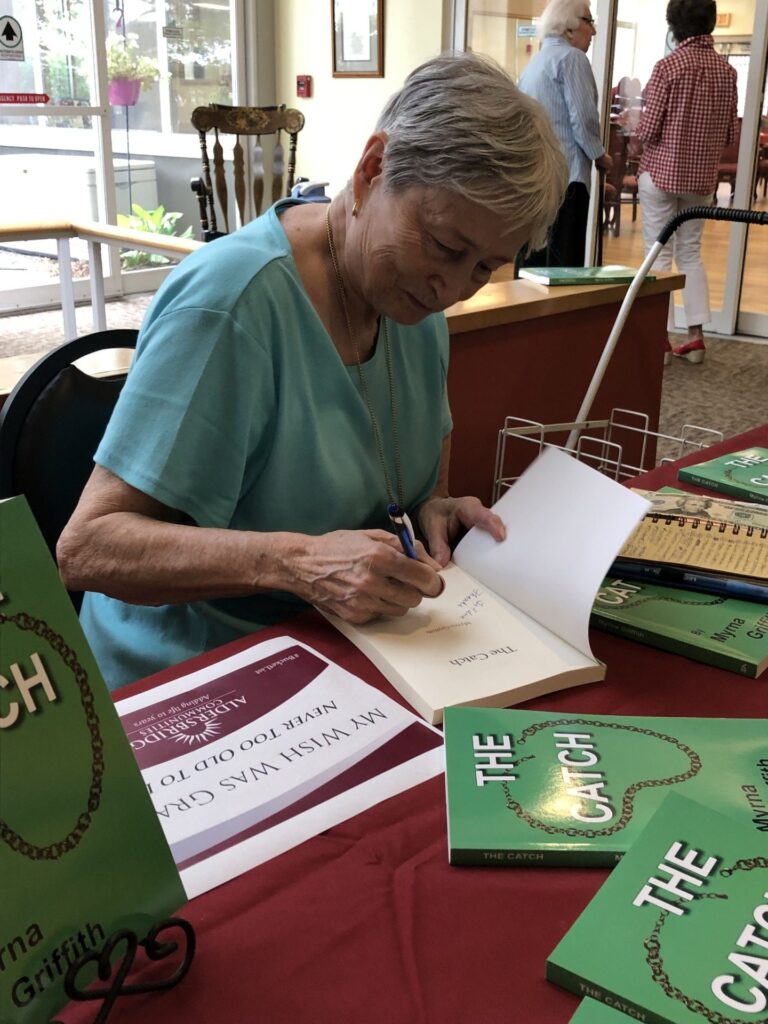 Like most writers, Winslow Gardens independent living resident Myrna Griffith began creating stories at an early age. As a teenager growing up in Attleboro, Mass., she wrote for the school newspaper and during spare moments in between dancing and babysitting.
"When I was younger, I taught dance," the 79-year old recalls. Myrna's career as a dance instructor continued until the late 1970s but ended when it became too physically demanding for her. She took interest in becoming an author after taking a writing workshop at the Attleboro Museum. "Writing became a new creative outlet for me," said Griffith "I had a new goal for myself, which was becoming a published author."
Myrna began writing stories a few decades ago, and describes it as something she took more seriously later in life. "I was 50 years old at the time," says Griffith. "My children were already grown and writing replaced a lot of the physical activities that I could not do anymore." Myrna often spent her time writing at a local restaurant and was even published in the Providence Journal.
Today, thanks to the ElderVentures program at Aldersbridge Communities and the help of some personal donations, Myrna's wish to get her latest book project, The Catch, published has come true. The novel chronicles Detective Otto Van Hulster as he tries to solve a mysterious murder at a boarding school in upstate New York.
A nonprofit organization, Aldersbridge Communities launched its wish-granting program, ElderVentures, in 2018. Funded entirely on donations, ElderVentures is only open to residents who live at one of the four Aldersbridge Communities throughout Rhode Island: Linn Health & Rehabilitation (East Providence), Winslow Gardens assisted and independent living (East Providence), Arbor Hill assisted living (Providence), and St. Germain assisted living (Woonsocket). Residents or their families can make wishes known to the administrators of these communities.
"I am so grateful for ElderVentures and could have never gotten my book published on my own," Myrna comments. "It's a fantastic program and speaks to how much Aldersbridge Communities values its residents. This has kept my dream alive and gives my writing exposure. I hope this program inspires people my age so that they can accomplish anything, especially if it is doing something that they love."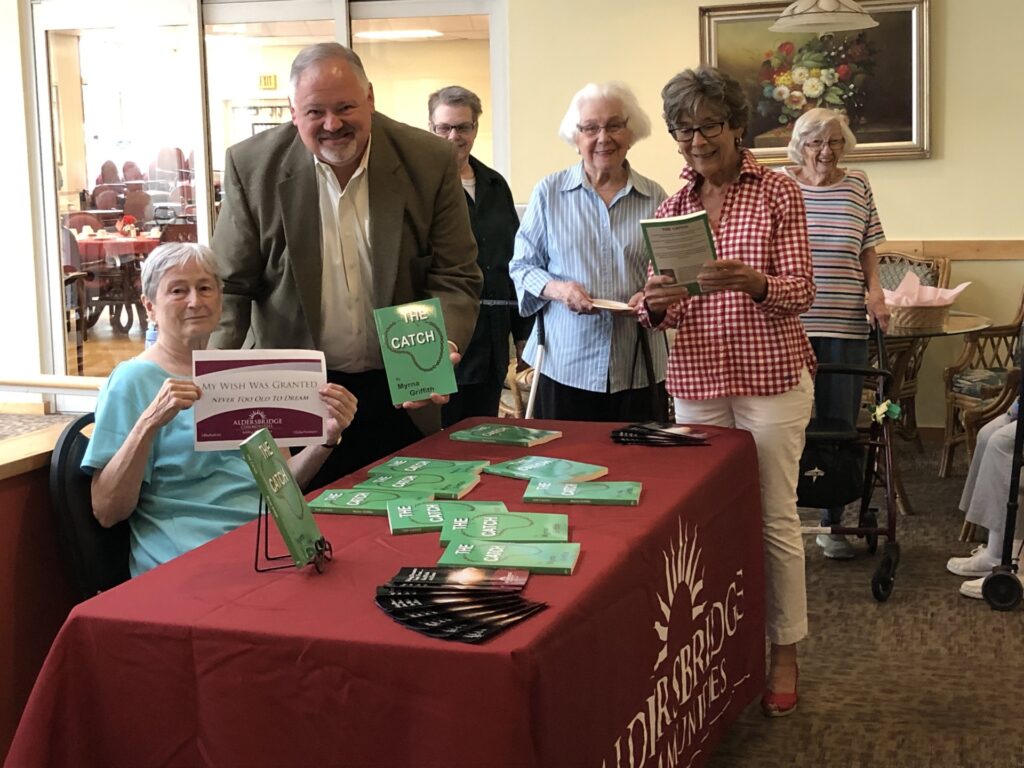 Winslow Gardens held a book signing as part of the ceremony to commemorate Myrna's wish being granted. "ElderVentures is a wonderful way to help our residents live with purpose," notes Aldersbridge Communities Chief Executive Officer Richard Gamache, MS, FACHCA. "Together with the generosity of our donors, we are making their dreams that may have seemed impossible, possible."
The Catch can be purchased through Amazon Smile at https://smile.amazon.com/s?k=myrna+griffith&crid=1EIYPS7J9C4GQ&sprefix=myrna+gri%2Caps%2C134&ref=nb_sb_ss_i_1_9 or from Myrna directly at Winslow Gardens.