Aldersbridge Communities News
---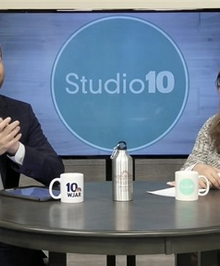 Elise Strom, director of development, public affairs & philanthropy at Aldersbridge Communities, was interviewed by WJAR NBC 10's Mario Hilario to discuss the many exciting details about the upcoming June 16, 2023 Adding Life to Years Gala. The Gala is...
read more
Aldersbridge Communities Chaplain, Reverend Jennifer Zogg of the Church...
The new Coronavirus Aid, Relief, and Economic Security (CARES) Act,...
Estelle McGovern, a 92-year old resident of Linn Health &...
Respectfully Yours They are the unlikeliest of superheroes. Some are in...
This message is for the staff members of Aldersbridge Communities, in all...
In Memoriam: Donald R. Kennedy (1928-2019) Donald R. Kennedy, age 91, a...
Like most writers, Winslow Gardens independent living resident Myrna...
Visitors and guests traveling to Linn Health & Rehabilitation or...
In Memoriam:  Jennifer Cabral (1980-2019) We are saddened to report that...
Aldersbridge Communities will hold its annual 2019 Harvest Time Fair on...