Morrill Martin Society: Legacy Giving

THE REV. MORRILL O. MARTIN 1914-1999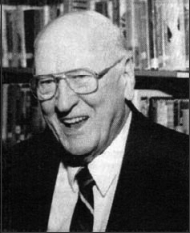 Aldersbridge Communities' legacy giving society is named for the late Reverend Morrill Martin, a devoted United Methodist whose vision, determination and energy was instrumental in the establishment of the United Methodist Retirement Center, known today as Winslow Gardens in East Providence, R.I.  Born in Taunton, Massachusetts, Morrill was the son of a Methodist minister. He graduated from Boston University School of Social Work and Boston University School of Theology. Ordained as a Methodist minister in 1946, he served five churches in three states and held the position of District Superintendent. In 1965, as Executive Secretary of the Board of Missions, Health & Welfare, and Chair of the Three-Fold Challenge in the New England Southern Conference, he led the effort with a committed team of parishioners, church leaders and community members to raise half a million dollars, secure the land, and lead the many steps toward building a successful elder care community. Today it has grown to include Arbor Hill Assisted Living in Providence, Linn Health & Rehabilitation in East Providence, St. Germain Assisted Living in Woonsocket, and Winslow Gardens Assisted and Independent Living in East Providence.
MEMBERSHIP
The Morrill Martin Society is made up of people with the foresight and passion to continue Mr. Martin's elder care legacy into the future. Financial gifts to the Society are used to support those of modest means who live in one of the four Aldersbridge Communities locations throughout Rhode Island. New members of the Society join each year, helping to ensure that the care of our residents will extend from today into perpetuity. Gifts are made through estate planning and/or major gifts directed to the Endowment Fund. Our investment strategy allows us to take a percentage of the total capital out of the fund annually to fund specific needs within the organization.
The following are gift plans and options that qualify you for membership:
• Bequests
• Life insurance policies
• Annuities
• Charitable trusts
• Retirement accounts
• $1,000+ of cash or stock directed to the Endowment Fund
BENEFITS OF MEMBERSHIP
• Recognition as a member of the Society
• Invitations to exclusive dinners and events
• Opportunity to network with other members
• Satisfaction knowing that your gift today will help future generations to be well cared for in our communities
• Stay informed about the good work of Aldersbridge Communities
MISSION
Over the years, many individuals and their families have been passionate about the people we serve and have had the desire and generosity to plan for the future support of residents living within Aldersbridge Communities. Our mission to enhance the well-being of those we serve with compassion, care and dignity will be relevant 50 years from now just as it began back in 1965 with Rev. Morrill Martin leading the charge.
THE NEXT STEP
Every individual and family situation is unique. A conversation with your lawyer, accountant or financial planner will help guide you in making the best decisions for you and your family. Your impactful decision will support Aldersbridge Communities into the future, helping us "add life to the years" of our residents.